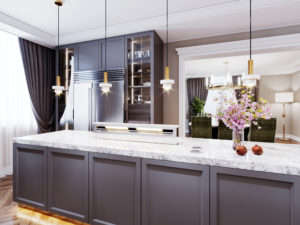 Lack of storage space doesn't just make your home difficult to live in; it also makes it difficult to sell. Potential buyers will pay more for a home with plenty of storage, but how do you add it without making your space seem crowded or reducing your livable square footage? Say hello to built-in furniture!
If you've ever watched any home renovation show on TV, you probably heard the hosts mention built-ins. Built-in furniture is a designer favorite for many reasons. From their seamless silhouette to their affordability, built-ins are a smart choice for any homeowner who wants to add storage space without sacrificing style or square footage. Here at Gloger Construction, we know the value a beautiful set of built-in shelves can add to your home, and we have the expertise to build them right.
So what benefits can built-in furniture bring to your home? Well-designed, high-quality built-ins:
Allow you to customize your home to your personal style.
Built-in furniture allows you to customize your home. You can add the exact amount of storage, display space, and seating you want in the exact measurements you specify. Want a built-in shelving area specifically to display grandma's silver serving ware? No problem. Custom built-ins can be made to fit anything your heart desires.
Increase your home's overall value.
That extra storage space equals more dollars in your pocket if you ever decide to sell your home. Buyers are always willing to pay more for homes with ample storage, and built-ins are a great way to add appeal in a competitive market.
Maximize the space in your home.
Another huge advantage to built-in furniture is that they often leverage unused space. An in-the-wall bookcase, for example, can be as large as the wall itself without taking any real estate away from the room. An under-the-stairs closet is another great way to use typically underutilized space.
Improve the look of awkward spaces.
Sometimes the way a home is built makes awkward spaces on the interior that don't seem to serve any useful purpose. Turn that problematic area into useable space with a built-in shelving unit or seating.
Add both visible and hidden storage space.
Built-ins can allow you to put your prized possessions on display or give you an attractive way of storing the things you don't want to see. A built-in entertainment center in the living room, for example, might have open shelves along with closed-off cabinets, while a built-in bench in your breakfast nook might offer hidden storage under the seat.
Our home building experts at Gloger Construction have successfully built over 180 custom homes in the past 12 years, many with custom built-ins. During this time, we have earned an unrivaled reputation for superior quality and design in the Tampa Bay area. Call us at (813) 773-1779 to discuss your custom home dreams today!