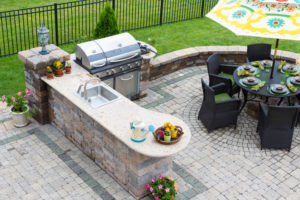 Whether you are building a new home or revamping your existing one, customized touches, however large or small, can make a huge difference in your space's atmosphere and appearance. Hiring a custom builder to make these adjustments carefully will help you love and embrace your home more than ever. These three custom touches, in particular, are sure to add a flavor of sophistication and attention to detail to your house. 
Open Concept Floor Plans
Open floor plans have been popular for many years, but they're gaining even more momentum in 2021. Forget about thick walls and doors; this year's open concept floor plans encourage a combined living, dining, and kitchen area. 
This open concept design promotes socialization among family members and helps your home's interior look even larger. Very few walls, hallways, and doors are included in the modern open floor plan. 
Wood-Grain Kitchen Cabinets and Counters
More homeowners are leaving granite and paint behind in favor of more organic and natural materials such as wood grain. Rather than painted kitchen cabinets or all-white kitchens, wood-grain cabinets and wood countertops on islands have become increasingly popular. 
Outdoor Kitchens
A multiseason outdoor space will set your home apart and give visitors something incredible to envy. Take it beyond a fireplace or screen room with an outdoor kitchen. This type of gorgeous space can range from modest to elaborate. Some homeowners build fully functioning kitchens with attached living space, decor, and entertainment. Others opt for a simple table, sink, and barbeque. Whatever you choose, you can make it your own. 
Built-In Furniture
Built-in furniture makes a huge statement in any home. From a simple built-in bookcase to a large floor-to-ceiling entertainment center, homes with built-in furniture have more value and offer the appearance of being sturdier and more attractive. Just about anything you want, even bunk beds, can be built-in — bars, hutches, fireplace mantels, and so much more! Use this tool to give your home a truly unique feel. 
Gloger Construction in Tampa, Florida, specializes in all of these custom home projects and much more. Give them a call at 813-773-1779 to get started on your home improvement today!