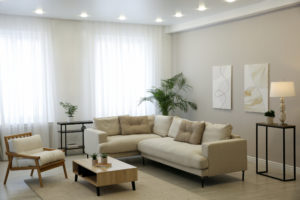 A fresh coat of paint can turn an old, outdated room into an on-trend space. Choosing the right colors to paint your home's interior is a big decision since these will be the colors you see the most each day. They will set the mood and color palette for the entire home. Carefully selecting your interior colors is essential to designing a home you are in love with.
Below we'll discuss the interior colors our clients choose most often and how you can incorporate these popular and stylish colors into your very own custom-built home.
Shades of Gray
All shades of gray, from ultra-light to charcoal, are extremely popular right now. These hues go with almost any color palette with just the right balance of warmth and intensity. We've even seen designers play with gray undertones mixed with other colors to give amazing effects. You really can't go wrong when you choose a gray foundation for your home's color palette.
Earth-Tones
From deep jungle greens to sandy browns to aqua blues, colors that mimic nature are definitely in style right now. When deciding how to pair up these natural tones, think about how Mother Nature does it. If the colors look good together in a scenic landscape, chances are they'll also look good together in your home. Just be careful to balance these high-intensity colors with lighter elements and decorations.
Bright Off-Whites
Bright white is a clean, classic look that never goes out of style. However, most designers are getting away from ultra white in favor of whites just a few shades off. This gives the brightness factor without the need to shield your eyes from the paint's reflective surface. (Although we're in love with bright white kitchens!)
Customize Your Interior Colors with Gloger Construction
If you want a truly customizable dream home here in Tampa Bay, then Gloger Construction is the company you need to call. From customizing floor plans to choosing every detail of the home inside and out, Gloger allows you to express yourself in every element of your new home. Call or contact us online to find out how Gloger can help make your dream home ideas a reality today!