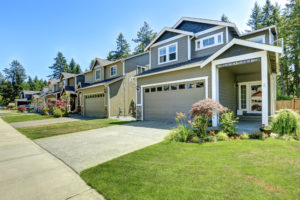 If the exterior of your home could use a little refresh, or you're finally building your Tampa Bay dream home and want to pick the perfect hue, dive into the most popular exterior home color trends of 2022 with us before making your choice:
Dark, Moody Neutrals
While bright, vibrant colors might draw in some attention, nothing grabs center stage like a dark exterior wall with bright, contrasting trim. Dark grays have been and will stay popular as homeowners push away from jewel tones and opt for more neutral yet interesting hues. If you're having a hard time choosing just the right darker shade, take a few steps back and look at the area surrounding your home. Choose a color that is already present in the background for a seamless transition.
Warm, Cozy Whites
Like a more traditional look but not keen on bright white? Lucky for you, warm neutrals, including an entire array of off-whites, are trending in 2022. These pleasant tones are comfortable on the eyes and go with pretty much any color scheme, making them perfect for homeowners who want a color that's timeless and chic.
Muted Greens
Need some color in your life (and home)? Play up this year's more spirited color choice with varying shades of natural greens. Opt for greens that mimic organic matter like foods or nature. Top choices include darker basil-Esque tones or lighter mints.
Custom Home Colors for Your Custom Tampa Bay Dream Home
When you choose Gloger Construction to build your Tampa Bay area custom dream home, you get full creative control over color palettes, themes, and more. We provide our decades of experience, resources, and tools to help you design a home that is not only functional but also puts your style on full display. Contact us to start the process today!