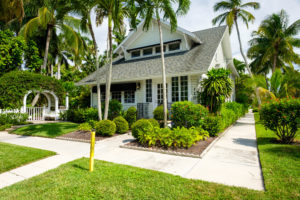 The real estate market is hot, hot, hot right now, and custom homes haven't missed the wave. Private owners and developers are snatching up lots and building custom homes faster than ever before. In this post, we'll discuss some of the most popular custom home trends and how you can get your very own custom home built here in Florida by Gloger Construction.
Sustainability
With climate change and how it will affect our futures in everyone's mind, it's never been a better time to incorporate sustainability into your custom home design. Using recycled and reclaimed materials is probably the most popular sustainability trend, usually for flooring and siding. Low-VOC paints and planting native plants are also great ways to be sustainable.
Energy-Efficiency
Energy efficiency makes sense for so many reasons. Using less energy to heat, cool, and power your home is better for the planet and better for your wallet. Energy recovery ventilation, passive cooling, and using Energy Star approved appliances are notable techniques.
Bringing the Outdoors Indoors
We don't just want to save the trees in 2022…we want to live with them! Natural elements indoors are all the rage, especially if they're there to prevent having to disrupt the surrounding environment, like building around a tree instead of cutting it down. Sound a little extreme? Installing an indoor greenhouse or strategically-placed skylights will work too.
Functional Work Spaces
We've been working from home for two years now! The American business environment has changed drastically since COVID-19 reared its ugly head, with companies realizing how much money they can save by allowing remote work while keeping their employees happier than ever before. That's why we're seeing a huge uptick in home office requests, along with other tweaks around the home to make working on the move easier.
Prioritizing Safety
If you've ever had a baby, you know how much time, money, and effort it takes to "babyproof" a home. More and more young couples are opting for child-safe features built into their homes from the beginning, such as rounded wall corners, biometric locking features, and raised outlets.
Custom Homes in Tampa Bay
Are you ready to build your very own custom home in Tampa Bay? Gloger Construction has the team, skills, and experience to design and build your Florida dream home with all the latest advancements. Call us at (813) 732-8121 or contact us online to get started today!