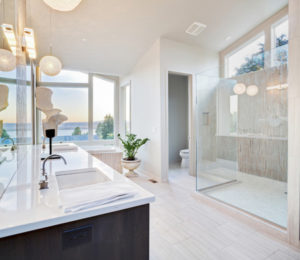 Your master bathroom might not receive the foot traffic and social visitors of your kitchen, but it is still an important space in your home. Designing a custom master bathroom will help you enjoy a daily sense of peace, luxury, and seclusion. But where should you begin? These ideas will help you identify the type of bathroom that matches your tastes.
Get Focused
A master bathroom poses unique design challenges, because so much must coexist in a relatively small space. It's important to narrow your focus by identifying your purpose and goals. Your options when designing a 12' x 12' master bathroom for only yourself will be very different than planning a 4' x 6' bathroom for your three children.  Ask yourself the question, "How does this bathroom need to be used?" By identifying the needs and wants regarding your space, you can plan appropriate goals.
Plan For Your Space
At this point in the design process, it is important to sit down with a professional contractor and assess how much space you have to work with. You will need to consider the fixtures like the tub, shower, sink, and toilet, the finishes like cabinets and hardware, the surfaces like the floor, countertop, and backsplashes, and the lighting. With enough space, you can afford to have a standing shower and separate garden tub, but with less space you'll need to consider a combination option. It's essential to only plan for the space you have, not the space you wish you had.
Select Your Materials
The materials you select can make or break the atmosphere and appearance of your new bathroom. First, settle on a materials "theme" and work around it. This will allow your counters, flooring, and other materials to complement each other. Every little detail matters, all the way down to the handles on your sink.
By working with a professional contracting team like Gloger Construction, you can ensure that your master bathroom is designed with every personalized want and need in mind. As a locally owned and operated company in Tampa, Florida, Gloger Construction offers custom workmanship with the highest quality results. Call (813) 253-0000 today to make your appointment and build the bathroom of your dreams!