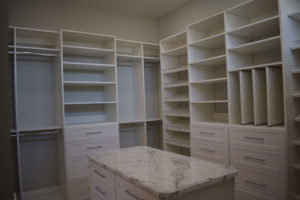 We all have a junk drawer. Even the neatest and most organized among us has that one drawer or closet that is designated as a free-for-all. But have you worried that all of the "stuff" you own might one day turn your entire home into a junk drawer? While some spring cleaning might help, the real solution is to invest in custom furniture that offers the organization you need to take control of your clutter.
Custom Mudroom Shelving for Organization
Mudroom, laundry room, entryway… whichever applies to you, a customized piece of furniture is an excellent and attractive way to keep shoes, backpacks, sports bags, dog collars, and hats off the ground.
One of the most popular mudroom designs is a bench-style piece with cubbies underneath, a backboard extending the length of the bench, and hooks and more cubbies above. This is the ultimate storage unit for everything that you want to keep out of your living room and kitchen. Plus, the cubby style even lets you organize by family member!
Custom Closet Sets For Organization
Your closet is your style hub. Shoes, shirts, pants, socks, and accessories are all kept in your closet to help you make decisions every morning. But without the right organizational structure, you might find yourself digging through piles of laundry or flinging through shoes to get ready for work each day. A custom-built closet system, whether a reach-in or walk-in style, will transform your space and make it dramatically more useful.
Entertainment Unit
Books, board games, toys, and decorations are difficult to maintain in an organized fashion without some type of master organization system. A custom built-in entertainment system makes this entirely possible by spanning the length of your wall and leaving specific places for your television, picture frames, books, toys, and everything else. In addition to making organization a cakewalk, built-in entertainment units also give your home a unique and impressive feel.
For custom furniture that will transform the value and appearance of your own home, call (813) 253-0000 to speak to an expert at Gloger Construction, LLC. The team members at Gloger specialize in custom organization units that fit your specific needs.