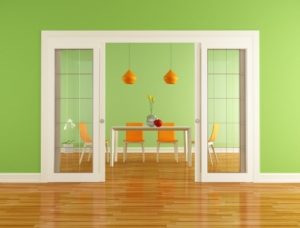 Your home's front door makes an important contribution to your property's overall curb appeal, but it isn't the only important door to consider. Interior doors also deserve to be built with distinction and exquisite detail. You may be surprised to see just how dramatically a few customized interior doors can transform the look and feel of your entire home. This is why Gloger Construction specializes in the installation of interior doors designed and built by skilled craftsmen who know your home deserves the best.
Sliding Inspiration
If you have a wide doorframe to work with, you can install sliding doors to add a touch of elegance and grace to any room. This works especially well in master bedrooms or between a family room and dining room space. White sliding doors with glass panes at the top, intricate moldings at the bottom, and attractive hardware along the edges can make quite a statement.
Go For Color
There is no rule stating that all interior doors must be white! This is the "default" color because it is simple and classic, but based on the design and color palettes of your home, you could benefit from interior doors that are painted a rich brown, dark black, or even brighter blue, yellow, or green. There is no one right answer for interior doors; it all depends on your style!
The Rustic Look
Rustic home design has become very popular over the last few years. Dark or light wood stains and barn door designs can give any room a rustic, farmhouse feeling. Though this style may not match an urban condo, it could help your own home feel cozy and more personalized.
Whatever type of interior doors you want to use to customize your home, the experts at Gloger Construction will make it a reality! Call (813) 253-0000 to learn more and get started adding beautiful and unique detail to your own home today.