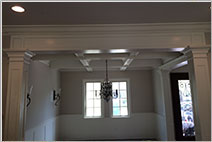 There are many different ways to design a stunning, unforgettable home—open floorplan, generous lighting, built-in furniture, distinctive staircase, and decor, to name a few. But there is one part of the home that many people overlook when they are planning their dream house: the ceiling! The ceiling of your home is one thing that is always there and usually bare. Rather than ignoring it, use one of the following techniques to make your ceiling one of the many memorable attributes of your home.
Coffered Ceilings
A coffered ceiling uses panels that add dimension and feeling to the room, and as an added bonus the panels reduce noise. If you want a large room with high ceilings to feel warmer and smaller, try dark panels with deep recesses. On the other hand, light panels with small recesses and color variations between the beams and panels can help a smaller room feel larger and brighter. Most coffered ceilings are designed with distinctive grids that add character and charm to any room.
Ceiling Medallions
If you want something different for your ceiling, try a medallion. Medallions work best in dining rooms, banquet halls, and on chandeliers in entry ways. They can be reminiscent of ceiling decorations crafted long ago, usually with impressive detailing, or more modern and understated. Whether you want a small medallion less than a foot in diameter or a large medallion that dominates the ceiling at more than 3 feet in diameter, you can make it a reality and add character to any room.
Tray Ceilings
Another great idea to take advantage of your ceiling space is to create a tray ceiling. Tray ceilings are either inverted or recessed rectangular architectural features used in dining rooms, bedrooms, hallways, and livingrooms. They break up the basic, boring flat ceiling line to add variation, height, and visual aesthetics. Different levels of tray ceilings can help a large room feel cozier or a small room feel bigger. You can even dress up a tray ceiling using paint and additional angles.