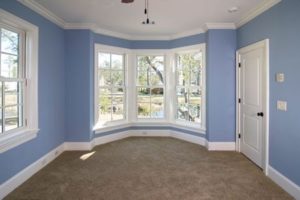 Improving your home for your own enjoyment as well as to increase home value is a great way to protect your real estate investment. You may think that any significant home improvements cost a lot more than you can afford, but in reality there are several things you can do to improve your rooms at a very low cost. With the stimulus money that everyone is receiving, you might want to spend some of that money on home improvements. Here are a few ideas.
Crown Molding
If your crown molding is deteriorating, now is a great time to have it replaced. This is also a good time to have new crown molding installed to change the look of a room. Crown molding is relatively inexpensive on its own. You can get it for about $7 to $16 per linear foot, or $400 to $1200 depending on the size of the room. If you want to have crown molding installed throughout your home the cost could rise to as much as $4,000.
Update Trim
The trim in your home, particularly baseboards, can become worn over time. Sometimes a fresh coat of paint is all that is needed, but other times you may need to replace your trim. Trim installation costs about $4 to $6 per linear foot, or about $350 to $750 per room depending on the size.
Install a Tongue and Groove Ceiling
Tongue and groove ceilings are becoming increasingly popular, and it is very easy to upgrade your ceilings. It only costs about $3 to $6 per square foot installed, or about $1300 depending on the number and size of rooms to be upgraded.
If you are interested in these or other home improvement projects with your stimulus, contact us today for more information or to get started with an estimate.