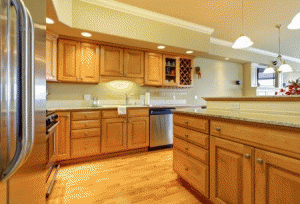 The kitchen is very often the center of a home's activity, from eating and talking to entertaining and doing homework. A well-designed kitchen can achieve a sense of comfort and coziness, the kind that makes visitors want to stay rather than return to their own houses.
"Kitchen Envy" is definitely a real thing! Rather than feeling jealous of your friends with gorgeous kitchens, create your own! Cabinetry is the most major piece of the kitchen, so its design can give your home an entirely different feel even if you can't renovate everything in the kitchen simultaneously.
Since choosing cabinetry is a bit like picking a car, the following tips will help you narrow down which types of cabinets will fit in your home. A delicate blend of planning, risk-taking, art, and science will result in an undeniably beautiful kitchen…and some kitchen envy for your friends!
Materials: If you want counters that will last, not just look good for the year or two before they start to deteriorate, it's worth paying the extra money for genuine solid wood cabinets or plywood, rather than particle board and medium density fiberboard. While each type of material has its perks (the first are sturdier, the latter are cheaper). Your budget will ultimately determine which materials are realistic for you, but within your price range you have many diverse options.
Features: A design-lover can get lost in dreams of features for days and days. Doors, drawers, hardware, and shelves are the details that complete the look of your kitchen. Drawers are becoming a very popular replacement for doors since they add ease of use and extra style, especially those handy "soft close" drawers that never make a sound! As for shelving, aim for plywood larger than 1/2 inch or it may end up sagging. Other fun features to bring character to your kitchen include a pull out trash can and built-in electronic charging station. The hottest trend right now is a spring-loaded shelf that offers quick access to large, stand-alone appliances by swinging up and out.
Finish: For some, this is the ultimate question that takes hours of debating to resolve. For others, the choice is a no-brainer and may have been determine since the eighth grade. The aesthetic effect of your cabinet's finish is a key element in the look and feel of your newly designed kitchen. From dark cherry to bright and airy white, cabinets come in a variety of color options to fit your preferences and match the style you envision.
With the help of a stellar kitchen construction company, you will have experts to guide you through this process and build the kitchen cabinets that will complete the look of your home.