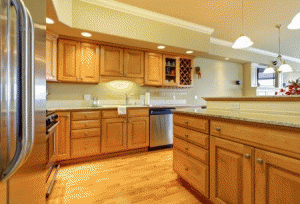 It doesn't take a lot of time or money to update your kitchen cabinets. With just some simple changes, your cabinets will become more stylish and up-to-date.
Paint the Kitchen Cabinets
A dazzling, vivid color can not only brighten up your kitchen cabinets, but your kitchen as well. If the doors and frames of your cabinets are still in good condition, consider just adding a spruce color such as a light blue, green, or yellow, to liven them up.
Reface the Doors
If painting will not work because the kitchen cabinet doors are too worn out, consider refacing them, which consists of replacing the doors and the frame. Not only will refacing save money, but time as well. Since this is just a partial kitchen remodeling project, you can still use your kitchen during the process.
Install Pull-Out Cabinet Shelves
What kitchen doesn't need more storage space? Adding a pull-out cabinet shelf, which is similar to a kitchen drawer, in the base cabinets will allow you to use the hard-to-reach space in the back of the cabinet.
Add Lights Under the Cabinets
Inserting lights under the wall cabinets can add much needed lighting to any kitchen. Additionally, it will help save on the electric bill, since it will reduce the need for the overhead kitchen light to be used.
Insert a Butcher Block Table
If you are going for a kitchen that eludes warmth and coziness, instead of new cabinets, consider adding a butcher block table. Because most tops are made with a thick slab of wood, they can withstand cuts and nicks caused by chopping and slicing. With the contemporary kitchen style being stainless steel and marble, a butcher block table can make any kitchen more inviting to family and friends.