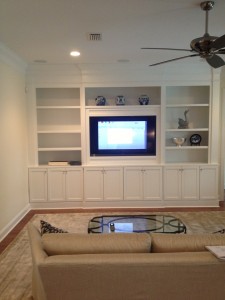 If you like your house and feel comfortable with its design, but don't feel any passion toward how you have designed and decorated it, perhaps it is time for a change. With the help of a contractor, you can make a unique project idea come to life and transform your home. Whether it's your dining room, kid's room, or office that needs a facelift, these ideas could provide a bit of inspiration.
For the Kids: Built-In Bunks
Picture this: an extra tall wall that is customized to house a permanent bunk bed rather than a shelf or dresser. With a rolling ladder heading up to the second bunk and drawers under the first for storage, plus built-in lights in the ceiling above each bunk, your kids will view the space as their own personal fantasy land. This idea isn't too hard for a talented contractor to create. All it takes is the room and the vision!
For the Adults: A Place to Brainstorm
Your office is your place to work, focus, and let the artistic juices flow. You can do this even more efficiently with a beautiful built-in, custom-made desk that comfortably flows from one wall, around the corner, and along a second wall. What else are those corners good for, anyway? A floor-to-ceiling design allows you to take advantage of all of the space you have, and beautiful cabinetry can help you stay organized and ready to make the magic happen.
For the Accessories: Staying Organized
If you are an accessory junkie and love to collect necklaces, bracelets, belts, cufflinks, and other small but valuable items, you need a place to store everything. Rather than a cramped jewelry box or hanger in the closet, opt for a built-in accessory cabinet that doubles as a full-length mirror when opened. This type of small closet with mini-shelves can be created right into your bedroom or closet wall to house all of your easy-to-lose belongings.