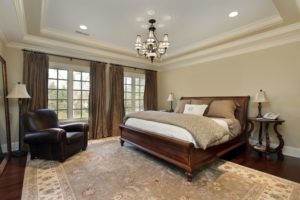 You may have heard this expression before, and it is very true of construction. Just about any contractor can build a home from the ground up, either on their own or using subcontractors, but not every builder can handle all of the small details that make your home beautiful and finished. Here are just some of the details that we excel in at Gloger Construction.
Crown Molding
Crown molding is the decorative trim that connects your wall to your ceiling. Some builders only place simple trim at the top of a wall at the ceiling, while others do not include any trim at all. Crown molding is traditional and can give your home an elegant look. Not all contractors can handle crown molding, but our team members are experts.
Fireplace Mantels
A fireplace mantel is another area in which a contractor might have to get a subcontractor or purchase the mantel prefabricated. However, Gloger Construction is able to build custom and elegant fireplace mantels that you will be proud to decorate for the holidays or year-round.
Built-In Shelves and Cabinets
One of the biggest concerns for most new homeowners is having enough storage space to keep all of their belongings organized and their home clean and uncluttered. We offer services to build built-in shelves and cabinets, as well as other furnishings, so that you can stay organized while your home stays cozy and clean.
Trimwork and Baseboards
Trimwork and baseboards really need to be installed by a finish carpenter. In addition to building homes from the ground up, we offer finish carpentry services. This means that the same builder is able to handle all aspects of building and finishing your home.
If you are interested in the building and finish carpentry services that we have to offer, visit our website or contact us for more information.