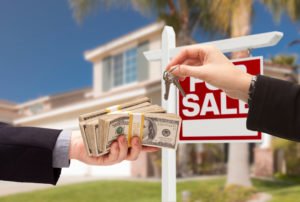 In today's red hot seller's market, cash is king. Buyers are pulling out all the stops to snag their dream homes, even if that means paying for it all upfront. In any market, investors and flippers also commonly make cash offers to get the best deal.
But, is selling your home for cash really the best thing to do?
There are many pros and very few cons to selling your home for cash. Check out the benefits of going with an all-cash offer:
Speed of sale
The biggest draw for sellers to accept a cash offer is the speed at which the sale will take place. Mortgage lenders tend to drag out the sale process for months while they do their checks, wait for appraisals and inspections, and verify the buyer's credit worthiness. On the other hand, cash sales can happen within weeks or even days if the seller is prepared. If you need to sell your home fast, accepting a cash offer is the way to go.
Simpler closing
If you've ever bought or sold a home with a mortgage, you know the pain of sitting in an attorney's office for what feels like an entire day, signing page after page of legal paperwork. If you're a smart buyer or seller, you'll want to read all that paperwork too, making the process take that much longer for everyone.
But, without a mortgage lender to deal with, the closing process becomes much more simple. While the buyer will likely still have a title and escrow company, buyer's agent, and attorney involved that will have their required documents to be signed, the majority of the paperwork in a home closing is from the mortgage lender.
Less risk that your sale will be derailed
There are so many potential issues that can throw a home sale off track, and even more so if you're dealing with a buyer's mortgage lender. In addition to verifying the buyer's ability to pay for the home (which you should also do with a cash buyer), the mortgage lender will likely want appraisals and inspections completed at a minimum. If any issues are found during either, the entire sale could be called off, or you may be looking at making extensive repairs to close the deal.
With a cash buyer, you can often skip the appraisal and inspections. This is because cash offers are typically as-is, meaning you're not responsible for any repairs or issues found during inspections. You're also off the hook for any title issues or previous debt attached to the property.
How can I sell my home for cash in Tampa Bay?
If you're considering selling your home in Tampa Bay, call Gloger Construction first! We'll make an as-is cash offer on your home with:
No lenders

No cleaning

No repairs

No staging

No showings

No closing costs

And more importantly… no stress!
Experience selling your home the way it should be with the cash offer program at Gloger Construction. Call us at (813) 732-8121 or visit us online for more information.
P.S. Looking for your dream home to move into after you sell your existing home? We can help with that too!