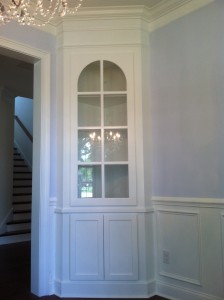 There's no denying that your kitchen cabinets serve as the room's focal point, so you want to make sure you choose a quality and design that will provide your kitchen the unique and personal atmosphere that you want to achieve. Whether you would like a kitchen that's sophisticated and distinguished, charmingly rustic, or a classic contemporary, custom cabinetry can instantly create your vision.
At their essence, cabinets are doors and drawers designed to artfully hide all of your kitchenware and small appliances, but custom cabinets are really so much more. Building custom means that you have a world of selection, from material and color to fancy extras and unique personalization. Though more costly than cabinets from a big box store, the price is well worth it for the number of benefits it brings.
Unparalleled in Quality and Sturdiness
It's a common fact that most materials in our home are meant to wear and tear long before we're done using them. Washers, hot water heaters, and vacuums all must be replaced at some point, but cabinets shouldn't follow that pattern. Skilled carpenters make custom cabinets by hand, and they take great pride and satisfaction in their work. They will use excellent material qualities like plywood and dovetail joints to ensure your kitchen always looks like new.
Personalization
If you're short, you may have an entire row of top kitchen cabinets that are completely useless to you, or perhaps your snack cabinet and fridge are constantly embroiled in the battle of the open door. With custom cabinets, you choose exactly what goes where, so your doors and drawers are organized to make sense. Incorporate a wine rack, spice cabinet, or even pullout cutting boards if it works for you!
Exact Fit
Just like a wedding dress designed exactly for your body, custom cabinets fit every nook and cranny of your kitchen for a one-of-a-kind appearance. This increases re-sell value, impresses guests, and gives you a lasting reason to take pride in your home.