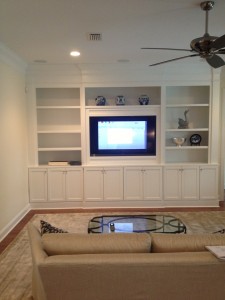 Whether you've just moved home or are thinking of renovating or updating your living space, it's important to make the most of your property. One of the most effective ways of achieving this is by having your furniture tailor-made for your home.
Of course, it's likely that you've already got a lot of furniture, and that most of it is in good condition. However, if you'd like to start maximizing the potential of your living areas, you may want to consider selling certain pieces of furniture and using the funds to invest in bespoke items instead.
The Benefits of Bespoke Furniture
1) Match your tastes. The most important advantage of ordering bespoke furniture is that you'll be able to match it to your unique preferences. If you live in a traditional style property, you could create bespoke bookshelves, tables and dressers that reflect this, with turned detail and polished wood surfaces. Alternatively, a minimalist house would lend itself perfectly to sharp, clean surfaces, which can be easily created by a bespoke furniture maker.
2) Fill the space. If you find yourself struggling to locate storage space in your home, then creating bespoke closets and bookshelves is the ideal solution. Your furniture specialist will use all available space to create storage solutions tailored to your exact requirements. They can also make optimum use of often overlooked areas, such as under the stairs.
3) Create a smoother look. As you probably already know, store-bought furniture isn't custom-made to fit into your home. As a result, bookshelves will often protrude slightly from alcoves, tables may be slightly too wide for a particular room, or closets may look too big for a certain bedroom. Having bespoke furniture made for your home solves this problem easily.
Find Out More
If you'd like to discover more about tailor-made furniture and how it can revolutionize your home, simply talk to the experts at Gloger Construction today. You can get in touch by calling 813-253-0000.