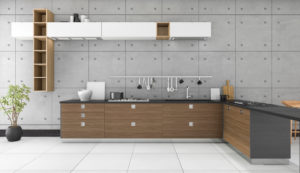 It takes a lot of furniture to fill up a house. While the exact amount will differ depending on the size of the house and your taste, you can bet on spending at least a few thousand dollars for the basics, on up to hundreds of thousands for luxury or custom furnishings. And, that doesn't even include the interior designer's fee…
Wouldn't you love it if you could get several major pieces of furniture, plus some bonus storage space, included when you purchase your home? When you buy a new home from Gloger Construction in Tampa, you can get just that with custom built-ins!
What types of built-ins can I get?
Just a few of the great built-in options you can get with a custom-built home from Gloger Construction include:
Shelving

Bookcases

Entertainment Center

Seating

Tables

Desks

Cabinets/Storage
The options are nearly endless when you plan your own home from the ground up.
Built-ins optimize your home's space
Large, bulky bookcases or entertainment centers can take up valuable floor space. By building these larger furniture pieces into your home's walls, you free up square footage for other pieces, or if you're a minimalist, maybe nothing.
Optimizing that space also means getting rid of bulky, intrusive storage spaces. Built-ins can take advantage of previously unused spaces in a home's structure, giving you storage space that doesn't take away from your style.
Built-ins add character
Built-ins command attention from anyone who walks in the room, so they're great conversation starters and give your home a unique look and feel. Built-ins are especially great for homes that must conform to restrictions on external appearance due to location or HOA's, since they allow the homeowner to add their own style to the structure on the inside instead.
Built-ins add value
Those unique built-in pieces will also be lucrative selling points if you do ever decide to sell. Potential home buyers look for these details and are willing to pay a premium to have them, especially in today's seller's market.
Gloger Construction can give you the home of your dreams, built-ins included!
If you're ready to start planning your dream home in Tampa Bay, Gloger Construction is here to help make that dream a reality. We will use our years of experience in the home design and construction industry to add features to your home that add value and function, like built-in furniture. Call us at (813) 732-8121 or contact us online to start the journey to your dream home today!