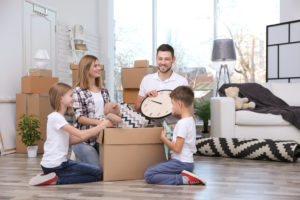 So, you've made the decision to build your very own custom dream home. Congratulations!
When you first sit down to plan the design of your new home, you are likely thinking about things like square feet, the number of bedrooms, paint colors, and making room for that walk-in shower you've always dreamed of. It's easy to let little things fall through the cracks, but rest assured, you will notice those oversights quickly once you move into the property.
Don't sweat the small stuff! Use our handy checklist to make sure your newly constructed home is just perfect:
Make sure you have enough light switches throughout the home so that you never have to walk across an entire room to flip the switch. It's not all about quantity either; the placement of light switches is also very important. Switches need to be at every entrance of each room where they work. But, never use a light switch to just take up empty wall space as they'll look out of place and add confusion to your layout!

Just a few years ago we'd only recommend power outlets around your home, but with the advancements made in technology and the omnipresence of cell phones in our lives, USB outlets are now almost as important. Include strategically placed power and USB outlets in the following areas to cover all of the bases and keep batteries charged no matter what room you're in:

Walls – the law states there must be a power outlet at least every 12 feet, but we'd suggest every 4-8 feet for the best experience. You need wall outlets in every single room of your home, including closets if possible.
Countertops – Place outlets every 4 feet over kitchen and bathroom countertops
Near appliances – some appliances require special outlets to run, so be sure to discuss this with your contractor for proper placement. Also think about things like TVs, internet modems and routers, and office equipment. All these areas need ample outlets.
Basement – No reason to run a dangerous drop cord down your basement stairs.  These outlets are especially important if your washer and dryer are in the basement, but convenient even if they're not. You can probably skip the USB outlets down here, though.
Garage – Many people use their garage for more than just parking a car. Garages often turn into makeshift workshops where all of the minor repairs and random storage in the house happens. So, outlets are essential for making the most use of this space!
Outdoors – Tons of outdoor equipment and devices require power, from pool pumps to sprinkler systems to generators. Don't forget to include outdoor outlets to power these items and more. Outdoor outlets also make outdoor entertaining so much easier.
Ambient lighting adds a luxurious flare to your new home, and with a qualified contractor, you'll be able to incorporate this lighting into the permanent structure so it flows effortlessly with your home's style. Ambient lighting can be used under cabinets, inside closets and drawers, down walkways, around entryways, and in bathrooms to create safe, well-lit spaces.

You may not be elderly now, but you would be surprised at how often a simple ramp or wide doorway will come in handy. Not to mention your older family members, or maybe even friends with baby strollers will appreciate the extra thought.

Your television is one of the largest items in your living space other than furniture, so you need to think about where you want to place it ahead of time. Not only will your contractor need to make sure there's enough space where you want it, but they also need to install sufficient outlets and storage in the area for all the wiring and accessories, like video game systems.

Accommodations for tall people
Is anyone that plans to live in a home over 6 feet tall? Then, you'll want to make sure some areas of the house are built to accommodate the extra height. Otherwise, your tall family members and friends will be bending down to get under the showerhead or ducking under doorways, which isn't a great experience.

Lots of stuff gets stored in our bathrooms, from towels to bath products to extra toilet paper. But, bathroom storage is often overlooked by both clients and contractors. One of the best upgrades you can make in your new bathroom is plenty of functional storage.

All kitchens have storage (or at least they should), but often it isn't functional for the people using it. Extra high cabinets are out of reach for clients in wheelchairs, for example, so there should be a focus on drawers and low cabinet storage instead.

Don't get so sucked into designing the inside of your new home that you forget to think about the outside! Functional outdoor spaces are crucial, especially here in Tampa Bay, for year-round outdoor entertaining and recreation. Just a few simple shelters around the home add privacy and relaxation you can't get indoors.

Don't settle for just a simple room with a washer and dryer in it as your new laundry room. Functional additions such as sinks, folding tables, fold-down ironing boards, and more will make the chore of washing and folding clothes much more comfortable.

If you know you'll be installing a security system, sprinkler system, indoor or outdoor surround sound, outdoor lighting systems, or more, be sure to have your contractor prewire those systems in so you can just plug and play when installation time comes!

It can be overwhelming to remember all of the little details that turn a house into a dream home. That's why it is so important to use a quality contractor with extensive experience building luxurious homes in the Bay area. When you choose Gloger Construction, you'll be using Tampa's premier custom home contractor, so you won't have to worry about any corners being cut on your new construction. Check out our gallery, then call us at (813) 732-8121 to discuss how we can make your Gulf coast dream home a reality today!