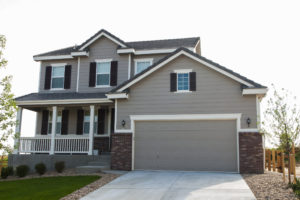 Your home's curb appeal has a huge impact on its resale value. Get rid of that tired white and paint your home one of the hottest exterior colors of 2021!
This year's most popular home exterior colors range from a warm twist on traditional white to the total opposite: various blacks and dark grays. One of the most exciting exterior paint trends this year is using two main colors to cut through the monotony. Say goodbye to boring bright white and hello to warmth, contrast, and natural tones!
Black
There's no doubt about it, black is one of the trendiest home exterior colors of 2021. Go black-on-black for the most shocking effect or add a pop of color by painting trim and doors a bright, contrasting color. Either way, your home will be the talk of the block. (Note: All black exteriors are better for homes that have lots of shade, since darker colors absorb more sunlight.)
Warm Whites
Let's take a trip to the other end of the color spectrum with the next exterior home color trend, warm whites. For people who don't want to veer too far away from a traditional color scheme, or houses that receive full sun all day, choosing a warm white tone is a great way to stay on trend without so much risk. Jazz it up by painting your door, trim, or both with one of the other popular 2021 home colors, such as a pastel blue or green.
Grays
Any gray will keep your home on trend this year, from charcoal to lighter blue-grays. Grays look beautiful with wood accents, stone features, and metalwork. Just like with black, avoid darker grays unless your home has plentiful shade. (Pro tip: Set dark gray off with a pop of white, while pale grays look stylish with brick red accents.)
Blues & Greens
Ties to nature are taking center-stage in 2021, with many people trying to get back to the basics after a stressful and uncertain year. Muted, midtone, and dark blues and greens are all being used as both main and accent colors. These colors make people feel grounded, yet rejuvenated, and go great with all those pandemic gardens.
Warm Neutrals
In line with the nature theme, browns, beiges, and tans give people a warm, earthy feel and pair great with almost all color palettes and architectural styles. Brown is especially great for Tudor-style homes to give them an updated, yet traditional look. Just like gray, warm neutrals go great with wood, stone, and other natural materials. As with the other darker colors, avoid dark browns if your home gets a lot of sunlight.
Pumped about picking out a home color yet? Gloger Construction allows you to choose any color your heart desires for your new custom home's exterior, making it uniquely yours both inside and out! Call us at (813) 544-1466 or contact us online to find out how we can help make your Tampa Bay Dream Home a reality today.