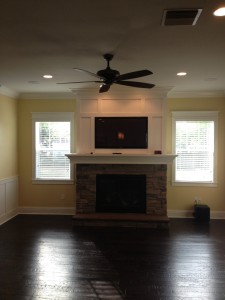 A fireplace can be the center of your beautiful home. It is a place for families to gather or a place for you to cuddle with your significant other. The fireplace is often located in the room that you do the most entertaining, and it is the focal point for the room and your guests. It is important that your fireplace mantel makes a statement and beautifies your home.
Installing New Fireplaces
Installing a new fireplace, whether traditional wood burning or gas, can be a great investment for your home. But most fireplace installers build only the most basic mantels, and they may be limited in the types of materials that they use. If you want to have the best-looking fireplace mantel for your new fireplace, it is a good idea to hire a separate contractor to build your fireplace mantel. We work with a variety of materials including wood, plaster, brick, and granite to help you get the look you want for your home.
Restoring Fireplaces
If you have purchased or inherited an older home, you may want to rehab or restore the fireplace. Fireplaces often become worn over the years, and well-used mantels may become scuffed, dented, or crumbled in spots. You may not have anything wrong with your fireplace mantel, but simply want to give it a facelift with a new mantel that is more in line with the décor of your home. In any of these situations, hiring a professional craftsman to build your fireplace mantel is the best way to ensure that it will last for years and add beauty to your home.
If you are interested in a new fireplace mantel or restoring your current fireplace mantel, contact us today for more information or to schedule an appointment.