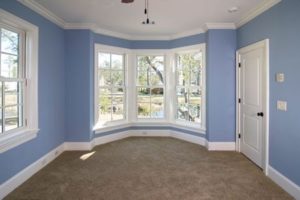 If you're looking for a simple yet effective way to add a touch of elegance and refined taste to your home, crown molding is your solution. Since it is available in so many different designs, shapes, and sizes, crown molding can achieve any design goal you may have, especially when you work with a local contracting firm like Gloger Construction in Tampa, Florida.
What is Crown Molding?
Crown molding is used as a graceful flare where the top of the wall meets the ceiling. Most crown molding is made of plaster or wooden trim, and when applied to the wall it doesn't sit directly on the wall or the ceiling, but instead forms a hollow triangle shape. This makes the creation and installation of crown molding more detail-oriented, since complex cuts are needed to form perfect corners with each surface the molding touches.
Making the Most of Crown Molding in Your Home
There's no end to the ways you can apply crown molding to your home, but these ideas take beauty above and beyond.
First, try adding crown molding that is complete with subtle lights in the lower molding that project up to illuminate the top piece of molding. This technique makes a stunning double impact and brings an entirely new atmosphere to your room. The soft and subtle glow is an instant conversation starter for guests, and since it's surprisingly affordable, you can enjoy all of the perks without any of the costs.
You could also use crown molding for an unexpected perk: wiring! If you're stuck with the dilemma of how to run wiring across the length of your family room without ripping up drywall or drilling through the floor, you can install crown molding with wiring you need running through the middle. Not only will your wiring be completely concealed, but it will help your room look even more sophisticated in the process! Best of all, an eight-foot section of simple molding costs less than $20, so it's a truly affordable project.
Whether you want to use crown molding to make your dining room look more sophisticated or to add character to a plain room, the skilled contractors at Gloger Construction can bring your vision to life. Call (813) 253-0000 to learn more about the many services that Gloger Construction offers for your home.