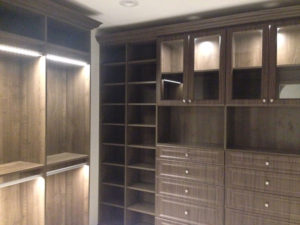 Your kitchen is the center of your home and the room that sets the tone for the rest of your space. If your kitchen is dark, cluttered, and cramped, then it will overshadow the rest of your house. On the other hand, if your kitchen is remodeled into a beautiful open space with custom cabinetry and strategic design, your entire house will have a different feel. Whether you are remodeling your entire kitchen or just replacing bits and pieces, these attractive custom cabinet designs might just work for you!
Stacked Cabinets
Standard cabinets stop a few inches or feet below the ceiling, leaving empty space that many people aren't sure how to fill. The tops of cabinets are popular places to display plants and antique plate collections, but is that the best use of that space? Stacked cabinets solve the problem by extending from the top of the bottom cabinet all the way to the ceiling. This design idea adds extra storage to your kitchen, especially for the seasonal or lesser-used items that might be clogging up the cabinets easily within your reach. Furthermore, they are attractive and can offer a beautiful display space if you use glass fronts or build them as small open cubbies. Imagine even using recessed lighting in those top cabinets to enhance the lighting in your kitchen and draw attention to whatever you have on display. The look can completely transform your kitchen!
Add a Splash of Color
Cabinets are traditionally a white or wood color, like mahogany or cherry, but that doesn't mean you are forbidden from giving your cabinets fun and creative colors. In fact, a two-tone color scheme can really add life and character to your existing kitchen, and the only cost to your wallet is paint.  For example, a darker sea blue and a lighter sky blue will complement each other beautifully when the darker color is used along the bottom of the kitchen and the lighter color is applied to tall cabinets. For something bolder than blue, consider lemon and lime. Pastel yellow and green can be used in alternating form to liven up your kitchen space considerably. Other great options include pale yellow with vintage green and leaf green with white.
Renovating and upgrading your kitchen is one of the most powerful ways to transform the environment in your home, but it's rarely a DIY project. For all of your custom home projects in the Tampa Bay area, you need a reliable and trusted contractor like Gloger Construction. Give them a call today at (813) 253-0000 to experience their professional craftsmanship for yourself.